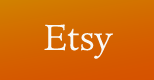 I figured it was fitting to have my first "Pretty Smitten with..." post be about Etsy. There are so many talented people on Etsy, I could spend hours upon hours searching all of the unique handmade items. And where would my
little shop
be without Etsy? I do local orders, but I feel like my shop can truly grow with the Etsy platform. I started the basics for my shop back in March, but it took me a bit to develop my online concept better and get everything looking the way I want. As many of you know I'm sure, it takes a while to get all of the details right... wording, photos, pricing, shipping...there's a lot to consider when going online! But helpful tools like
The Storque
and the
Forums
made the process easier and I do feel like I'm truly on my way now. 25 sales and counting, I'm happy with that!
So for my very first Etsy find, could these little booties be any cuter??
I found them in the Etsy shop
Pleasantly Plump Knits
run by Meghan, a self taught knitter! Very impressive self teaching! Booties are available in a rainbow of colors and have cute names like
Pink Lemonade
,
Saturday Afternoon
and
Strawberry Shortcake
. The booties shown above are the
James Dean
...I just wish I had seen them sooner! My little guy is almost 9 months old and her sizes go up to 9 months. So they are marked as a favorite and I will definitely be getting a pair for our next baby. Thanks Meghan for letting me share your adorable booties and keep up the great work!!